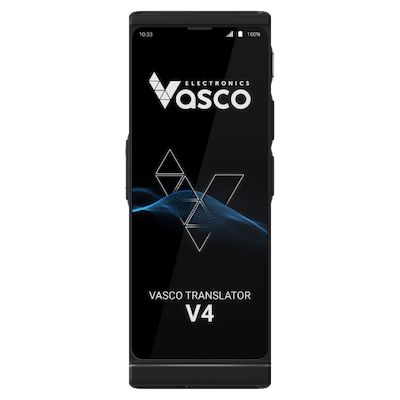 Technical specifications:
| | |
| --- | --- |
| Translation accuracy | >96% |
| Warranty | 24 months |
| Updates | |
| No. of languages | 108 |
| No. of translation engines | 10 |
| Customer service in English | |
| User manual in English | |
| Device menu in English | |
| SIM card included | |
| Free internet period | unlimited & lifetime |
| Price for renewing Internet data package | 0.00 |
| No. of countries where SIM card works | ~200 |
| Translation sharing option | |
| Weight (ounces) | 0.3 lb |
| Color options available | 5 |
This is an absolute sensation on the electronic translators market. It has all the cutting-edge features of Vasco Translator M3 and more. In addition to translating voice, photo and group chats, you can also translate single words, short sentences and phrases. We also get more languages.
This universal translator features some functionalities to help you during travels. Vasco is resistant to shocks, dust, and splashes of water and has been equipped with an ergonomic 5-inch screen.
Let's see what else you can do with Vasco Translator V4:
Real-time voice translation. You have 76 languages at your disposal, which means you can understand and be understood by a vast majority of the world's population. Everything works smoothly, which makes the conversation feel natural. It's a must-have when traveling abroad.
Photo translation. A very intuitive feature, which automatically recognizes the language on the photo you've taken. It translates 108 languages, which is more than Vasco Translator M3. It's especially useful when translating foreign restaurant menus, newspapers and warning signs.
Text translation. With this feature, you will instantly translate single words, short sentences and phrases. This functionality includes 90 languages! It's especially useful, for instance, when we see unknown words on buildings, information boards or at an airport.
Group chat translation (MultiTalk). Here, you can create and translate group chats and invite up to 100 participants. It is especially useful when we want to talk to people from different countries, e.g., when working abroad.
Lifetime Internet for translations. There's probably no need to explain, why this feature is so useful. Currently, every app or translation device requires an Internet access to work. In order to connect to the Internet abroad, you'll probably need to use your own data (which can be expensive because of the roaming costs) or run around looking for a Wi-Fi hotspot. And while most producers offer only a limited Internet access, this universal translator from Vasco Electronics gives you Internet without any limits or additional costs.
It's worth noting that Vasco universal translator is supported by 10 best translation engines in the world. It means that the translations are extremely accurate and of high quality. Add to this their speed, and you can rest assured that the conversation will feel natural. Not to mention that you will avoid misunderstandings.
Translation apps that you can download to your phone only have 1 engine. So, all language pairs are translated with the help of this 1 system. Vasco universal translator, on the other hand, chooses that one engine (out of 10) which will provide the best results for a given language pair.
Let's talk about design now. It's elegant, modern, and comfortable. The Vasco universal translator is also available in 5 different colors, so that you can choose the one that suits you best. Even more, you can use the digital buttons on the screen, or opt to operate the translator with the physical buttons that are on the side of the device.
The battery is very strong. It can last from 4 to 5 days of average use. We can leave a hotel and rest assured that this universal translator won't die after an hour of usage. Smartphones, on the other hand, use other apps, which often work in the background, so we're never sure how long the battery will last.
Vasco universal translator is currently the best device of its kind on the market.
What we liked most: Customer service available in multiple languages. Big screen, everything is easily visible. 108 languages in the photo translator feature and free lifetime Internet with no additional costs.
What we didn't like: No headphone jack. We can only use Bluetooth headphones, which can be problematic.
Technical specifications:
| | |
| --- | --- |
| Translation accuracy | >96% |
| Warranty | 24 months |
| Updates | |
| No. of languages | 108 |
| No. of translation engines | 10 |
| Customer service in English | |
| User manual in English | |
| Device menu in English | |
| SIM card included | |
| Free internet period | unlimited & lifetime |
| Price for renewing Internet data package | 0.00 |
| No. of countries where SIM card works | ~200 |
| Translation sharing option | |
| Weight (ounces) | 0.3 lb |
| Color options available | 5 |