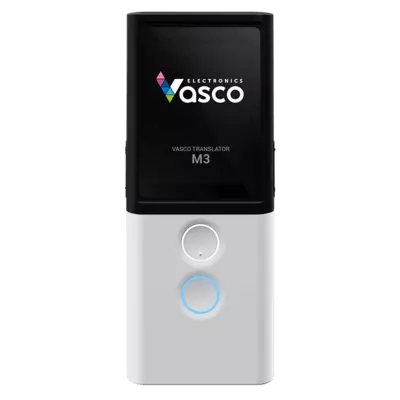 Technical specifications:
| | |
| --- | --- |
| Translation accuracy | >96% |
| Warranty | 24 months |
| Updates | |
| No. of languages | 76 |
| No. of translation engines | 6 |
| Customer service in English | |
| User manual in English | |
| Device menu in English | |
| SIM card included | |
| Free internet period | unlimited & lifetime |
| Price for renewing Internet data package | never required |
| No. of countries where SIM card works | ~200 |
| Translation sharing option | |
| Weight (ounces) | 3.04 |
| Color options available | 6 |
This is a solid device, with a multitude of useful features. It has all the properties providing flawless speech translation, and a package of cool features impossible to find elsewhere (at least not all of them at once).
Vasco Translator M3 comes with a built-in SIM card, allowing for unlimited and lifetime Internet access in nearly 200 countries. In other words, it will never generate any extra costs as it works virtually anywhere in the world and does not require any renewals or subscriptions.
Now, the extra features:
The photo translator works very smoothly and recognizes the source language by itself!
Phone calls translator, which is quite self-explanatory, is the absolute unique function on the market, not available in any other device on the list. You can call a business partner in, say, China, or a relative in Europe, and you both can have a fluent phone conversation, each of you speaking your own language!
Group chat translator, called MultiTalk. It can connect even a hundred people who speak several different languages, so that they can actively participate in the same meeting or conversation.
An app for learning languages, a fun and clever addition to a device already helping with communication.
This speech translator relies on using the world's 10 best translation engines to ensure your translations are of the highest available quality and your conversation flows fluently. The latter comes very naturally also due to the native speaker-like pronunciation available for almost all supported languages.
We were also pleasantly surprised by the modern design of this translator. Available in 6 colors, the device is sleek, and, dare we say, racy?
Vasco Translator M3 looks like it came straight from the future. Still, it is very easy to navigate and fits perfectly in any hand and snugly in any pocket. Inside it has a powerful battery charged by a modern type-C adapter.
What we liked most: free and unlimited internet for life, high speed and accuracy of translations, modern design, additional and unique features, easy to use.
What we didn't like: If the battery lasted a month, it would be a perfect device.
Technical specifications:
| | |
| --- | --- |
| Translation accuracy | >96% |
| Warranty | 24 months |
| Updates | |
| No. of languages | 76 |
| No. of translation engines | 6 |
| Customer service in English | |
| User manual in English | |
| Device menu in English | |
| SIM card included | |
| Free internet period | unlimited & lifetime |
| Price for renewing Internet data package | never required |
| No. of countries where SIM card works | ~200 |
| Translation sharing option | |
| Weight (ounces) | 3.04 |
| Color options available | 6 |