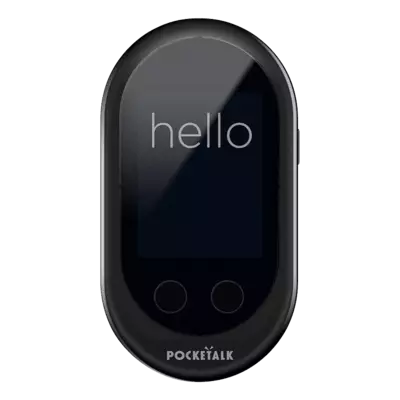 Technical specifications:
| | |
| --- | --- |
| Translation accuracy | N/A |
| Warranty | 12 months |
| Updates | |
| No. of languages | 70 |
| No. of translation engines | 1 |
| Customer service in English | |
| User manual in English | |
| Device menu in English | |
| SIM card included | |
| Free internet period | 1 month |
| Price for renewing Internet data package | $24 / year / 1 GB |
| No. of countries where SIM card works | ~83 |
| Translation sharing option | |
| Weight (ounces) | 4.20 |
| Color options available | 2 |
We have struggled with this device. On the one hand, it looks nice, and the manufacturer boasts an almost too-good-to-be-true number of languages (155), but on the other hand, a number of translations were of really poor quality. Also, over 20 of the languages are only available for written translation, as there is no feature of speech recognition or pronunciation. For a language translator, this is a big disadvantage.
Don't get us wrong, the device does work. It does its only job, the translations are adequate - if not error-free - and that's it. And while we might be convinced to overlook this minor inconvenience, we can't ignore the huge gap between Travis' offering and that of other leading manufacturers when it comes to Internet access (without which no electronic translator can really function). Travis Touch Go comes with a SIM card with 1 GB of data volume, which is only available for 1 month from purchase (or shorter if the user manages to use it up). Then the user has to renew the data pack for $24, but that again only gives them 1GB which expires after a year, it means that if you use the translator a lot, you have to constantly buy additional data packs, at least once a year! This is impossible to explain given the simple solutions offered by other vendors.
What we liked most: translates with acceptable quality.
What we didn't like: Incorrect indication of the number of translation engines used and no mention of translation accuracy, both crucial information for a serious user of electronic translators.
Technical specifications:
| | |
| --- | --- |
| Translation accuracy | N/A |
| Warranty | 12 months |
| Updates | |
| No. of languages | 70 |
| No. of translation engines | 1 |
| Customer service in English | |
| User manual in English | |
| Device menu in English | |
| SIM card included | |
| Free internet period | 1 month |
| Price for renewing Internet data package | $24 / year / 1 GB |
| No. of countries where SIM card works | ~83 |
| Translation sharing option | |
| Weight (ounces) | 4.20 |
| Color options available | 2 |