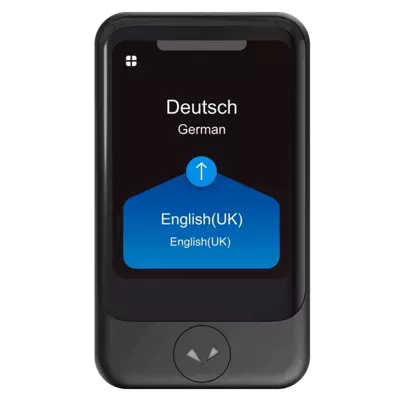 Technical specifications:
| | |
| --- | --- |
| Translation accuracy | N/A |
| Warranty | 12 months |
| Updates | |
| No. of languages | 74 |
| No. of translation engines | 1 |
| Customer service in English | |
| User manual in English | |
| Device menu in English | |
| SIM card included | |
| Free internet period | 2 years |
| Price for renewing Internet data package | $50 / year |
| No. of countries where SIM card works | ~130 |
| Translation sharing option | |
| Weight (ounces) | 2.60 |
| Color options available | 3 |
Pocketalk's two devices are right next to one another because there is little difference between them. Still, we liked the "S" model a little better, mainly because of the photo translation option, which is always a valuable addition to any electronic translation. What bothers us a little is the overly complicated way of switching between languages during a conversation - a button in the middle doesn't mean you only have to press one button. Quite the opposite. You have to press a small arrow on the screen and then the huge button in the middle before your foreign friend starts speaking. Yeah, we think that's weird too...
It's a good device for translating between any two of the 74 languages it supports. Translation quality is satisfactory, but the manufacturer never specifies how many translation engines it uses or how accurate the translations are. During our test, we had little trouble getting our point across, although the translations were not precise.
A handy translation device which might be just enough for less demanding users. It covers over 70 languages of the world and the SIM card allows 2 years of translations in the majority of countries. It is one of the few devices in the ranking with a photo translator function.
What we liked most: Photo translator, nice design and small size of the device.
What we didn't like: difficult and user-unfriendly method of conversation mode, the manufacturer avoids mentioning translation accuracy, which is a bit suspicious (especially considering that most manufacturers like to boast about their performance in this area). Also, there is no information about the number of translation engines used.
Technical specifications:
| | |
| --- | --- |
| Translation accuracy | N/A |
| Warranty | 12 months |
| Updates | |
| No. of languages | 74 |
| No. of translation engines | 1 |
| Customer service in English | |
| User manual in English | |
| Device menu in English | |
| SIM card included | |
| Free internet period | 2 years |
| Price for renewing Internet data package | $50 / year |
| No. of countries where SIM card works | ~130 |
| Translation sharing option | |
| Weight (ounces) | 2.60 |
| Color options available | 3 |